Do you like answering random questions about yourself? Well head over to My Little Life and start Five Question Friday on your blog!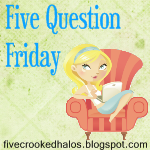 1. Do you sing out loud in the car when you're driving?
Umm heck yes I do...!
(if I am alone that is!)
2. What would you never be caught doing?
Definitely not doing Five Question Friday at work while I should be working!
3. Will you go #2 in a public restroom?
NO!!! Never!
4. Have you ever broken a bone?
Nope...which surprises me now that I think about it...
5. Do you prefer cooking or baking?
Baking! If I knew how to cook or felt "good" at it...I would probably like it more.