Thanks MamaM! What a good way to end the week! =)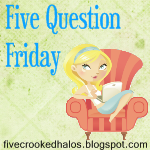 1. Do you have an iPhone and, if so, how do you get apps and what are your favorites?
I don't have an iPhone...I'm still using a Razor! I'm so out of touch!!
2. What is your fondest memory of K-3rd grade?
Oh wow...umm probably playing softball...and sleepovers =)
3. What makes you cringe at the thought of touching?
Snakes, Alligators, cotton balls...I have texture issues people!

4. If you could have any celebrity show up on your doorstep who would it be and why?
Umm good question! Probably Hilarie(sp?) Burton from One Tree Hill...I have been watching that show since I was 15...my husband wants to name our little girl after her character because she reminds him of me =)
5. What would you say is your best physical feature?
My nose. I love it because allll my siblings and I have the same nose, and both my sisters have passed it on to their children...I hope my kids get it too!!
So now I will address the elephant in the room...do you love my new blog design!?! Melissa has been so helpful and I absolutley LOVE this new design...I have committed to at least two blog posts a week, and very shortly I will have a post updating everyone on my infertility journey! I am so excited...this super cute design has inspired me to get back into the kick of things!! Happy Friday everyone!!!