It's been a while since I have done one but I'm back! Thanks MamaM!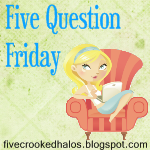 1. Take your pick...date night, girls night out, or night out alone?
Date Night...I love spending time with my husband! He's amazing =)
2. Can you touch your nose with your tongue?
No! But I can sniff my upper lip to where it's stuck to my nose...does that count for anything?
3. What is your favorite flower and why?
Star Gazer Lillies...because they are the first flowers my husband ever sent me for no reason =)
4. If you could go back in time, what advice would you give yourself?
Save yourself for your husband. Stupid.
5. If you won the lottery, what is the very first thing you would do?
Payoff my car and house. Then I would probably adopt a child